Buck Owens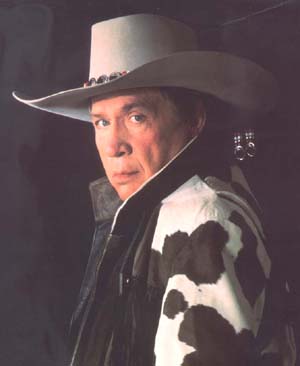 For many fans the principal identity of Buck Owens is the overall-clad hillbilly who co-hosted Hee Haw with Roy Clark. But during the 1960s and 1970s Buck soared to a level of success and influence that has been enjoyed by few other Country stars. Alvis Edgar Owens was born into a family of sharecroppers on August 12, 1929, at Sherman, Texas. Always called "Buck," the towheaded little boy moved with his family to Mesa, Arizona, during the Great Depression. Growing up during hard times, Buck dropped out of school in the ninth grade to work on the farm. But like many other children of the Depression, he was fiercely ambitious.
Keenly interested in music, Buck learned to play the guitar, later picking up the trumpet and saxophone. While still in his teens he began to perform in Phoenix clubs and honky tonks, as well as on local radio. At nineteen Buck married fellow Country singer Bonnie Owens. The couple had two sons, and although Buck and Bonnie later divorced, they amicably shared the raising of their boys. Buck would marry three more times including a final happy union to Jennifer Smith. In 1951, Buck, Bonnie, and their sons moved to Bakersfield, California, where Buck performed regularly in local clubs. He spent several years playing guitar during recording sessions at Capitol Records. In 1958 Buck's cover of "Second Fiddle" reached No. 24 on the Country charts, but he had little confidence in his future as a recording artist.
In 1958 Buck moved to Tacoma, Washington, where he played clubs in the area and hosted a live radio show (one of his guests was young Loretta Lynn). Buck met musician Don Rich, who became his partner and band member. Another band member, bassist and future superstar Merle Haggard, named Buck's band "The Buckaroos." Late in 1959 "Under Your Spell Again" reached No. 4, beginning a nearly uninterrupted string of Top 10 hits that continued into the 1970s. The first of more than thirty albums was released in 1961. Buck's first No. 1 single "Act Naturally" appeared in 1963 and began 15 consecutive No. 1 hits, including "I've Got a Tiger By the Tail" in 1965. Buck performed before a capacity crowd at Carnegie Hall in New York City on March 25, 1966. On tour he commanded top concert fees and he appeared in two motion pictures. Buck, Merle Haggard, and other artists produced the Bakersfield Sound, a hard-country honky tonk sound that contrasted with the smooth Nashville music of the era. The Bakersfield King built a state-of-the-art recording studio in the community that sometimes was called "Buckersfield."
From 1966 through 1973 the half-hour Buck Owens Ranch TV Show aired over as many as 100 stations. in 1969 Hee Haw premiered over CBS-TV and enjoyed immense popularity on the network and in syndication. Although Buck cut back on performing, in 1988 Buck and Dwight Yoakum released a duet, "Streets of Bakersfield," which was Buck's first No. 1 since 1972. Among a host of awards for the Bakersfield King was induction into Nashville's Country Music Hall of Fame in 1996. Buck passed away in Bakersfield on March 25, 2006.
---
The Whites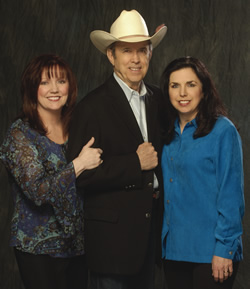 The Whites originated with the musically gifted H.S. "Buck" White. Born in 1930 in Oklahoma, Buck was raised in Wichita Falls. As a boy he learned to play the piano, and later he added the mandolin, guitar, banjo, fiddle and harmonica to his performance repertoire. Forming a small band in high school, Buck increasingly focused on mandolin and piano, while learning from the music of Bob Wills, Bill Monroe, and the Callahan Brothers. With a growing reputation as an instrumentalist, Buck often was called in to man the piano when such stars as Lefty Frizzell and Hank Snow performed in the area. Buck played on a radio station out of Vernon before moving to Abilene.
While playing a show in Abilene, Buck met singer Pat Goza. Buck and Pat married in 1950 and made their home in Abilene. Daughters Sharon and Cheryl were born in 1953 and 1955 in Abilene, where younger daughters Melissa and Rosanne were born. The growing White family moved to Fort Smith, Arkansas, in 1962. Buck and Pat teamed with Arnold and Peggy Johnston as the Down Home Folks. Four years later Sharon and Cheryl, along with Teddie and Eddie Johnson, became the Down Home Kids. Sharon played guitar and Cheryl was on bass.
In 1971 the Whites moved to Nashville, calling themselves Buck and the Down Home Folks. The next year the first of more than a dozen albums appeared, and touring schedules took the group as far as Japan. Pat retired in 1973 to focus on family life, and Sharon married Bluegrass star Ricky Skaggs in 1981. Sharon and Ricky have three children. Ricky often performed with the Whites and Rosanne White filled in while Sharon Skaggs took maternity leave. Top 10 hits for the Whites during the 1980s included "You Put the Blue in Me," "Hangin' Around," "I Wonder Who's Holding My Baby Tonight," and "Pins and Needles." Audiences always respond enthusiastically to Gospel and Bluegrass numbers of The Whites. Sharon looked back over four decades of performing with the Down Home Kids and the Buck White family and The Whites, "There's nothing like music to bring a family together."
---
Mickey Newbury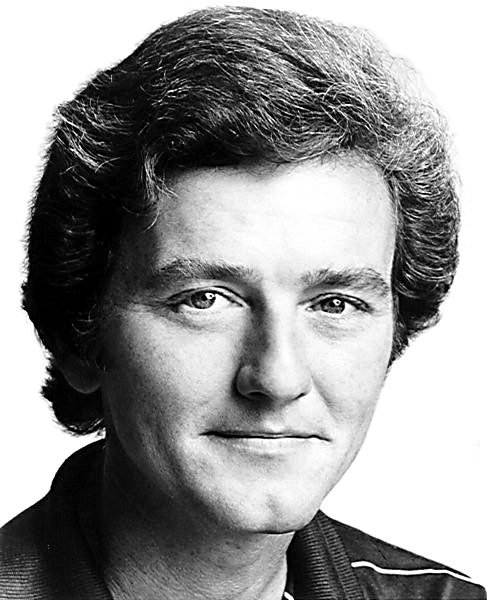 Mickey Newbury was only forty when he was voted into the Nashville Songwriters Hall of Fame. "I learned more about songwriting from Mickey than I did any other single human being," declared Kris Kristofferson, a 2007 inductee of the Texas Country Music Hall of Fame. "To me he was a songbird. He comes out with amazing words and music," added Kristofferson. "He was my hero and still is."
Milton Sims Newbury, Jr. was born in Houston on May 19, 1940. In high school Mickey learned to play a guitar, formed a band, and began writing songs. He also wrote poetry, which he read in Houston to coffee house crowds. He frequented Houston's black music scene, hanging out in blues clubs, where Gatemouth Brown nicknamed him "The Little White Wolf." Mickey and his band performed at Texas military bases, and in 1959 he enlisted in the U.S. Air Force. While in uniform Mickey continued to write songs, and soon after his four-year hitch ended he gravitated to Nashville, becoming a songwriter with Acuff-Rose Music. Mickey became friends with such other newcomers as Kris Kristofferson, Willie Nelson, Roger Miller, and Tom T. Hall. These gifted artists were instrumental in revolutionizing Country Music, introducing greater emotional depth and new musical influences.
Newbury authority Kurt Wolff stated that Mickey "infused his country music with haunting beauty and spiritual melancholy, creating an impressive collection of introspective, emotionally complex songs." Over the next three decades Mickey recorded fifteen albums in "his soft, beautiful tenor voice," although other artists would enjoy greater success on the charts with his material. Don Gibson enjoyed a Top 10 Country hit in 1966 with "Funny, Familiar, Forgotten Feelings," and the next year the song became a Pop hit from Tom Jones. In 1968 Mickey's boyhood friend, Kenny Rogers, scored a Top 5 single with "Just Dropped In (To See What Condition My Condition Was In)." That same year Eddie Arnold reached the Top 5 with "Here Comes the Rain, Baby." Another 1968 success was "Sweet Memories," recorded by Andy Williams. This Pop hit was covered the following year by Dottie West and Don Gibson, who placed "Sweet Memories" on the Country chart.
Other recording artists who covered Newbury songs included Waylon Jennings, Willie Nelson, Joan Baez, Jerry Lee Lewis, Ray Charles, and the Everly Brothers. Mickey's moving arrangement of three songs, "Dixie," "Battle Hymn of the Republic," and "All My Trials," became the compilation "American Trilogy." Elvis Presley enjoyed a major hit with "American Trilogy," which became a standard in his act. Mickey left the Nashville spotlight when he moved to Eugene, Oregon with his wife Susan. The father of five children, Mickey continued to compose and occasionally to record. But by 2002 he had contracted a lung ailment. The acclaimed songwriter died at the age of 62 on September 29, 2002.