Linda Davis "Song Stylist"
"Linda Davis is absolutely one of the best singers in the business," says Country superstar Kenny Rogers. "In this business, there are people who can sing and there are singers," explained Rogers. "She is the best."
Grammy-winning singer Linda Davis is a Panola County native who began her performing career as a child. Born in the rural community of Dotson, Linda was singing in church by the age of six. She performed on the Gary Jamboree and later, the Louisiana Hayride. The popular blonde beauty was a cheerleader at Carthage High School, and she sang in the CHS choir. At Panola College in Carthage, Linda was a choir member and performed in The Pipers, a singing and dancing group which toured for the college. Utilizing her singing gifts in the talent contest, Linda was voted Miss Panola County as part of the Miss Texas Pageant.
In 1982, at the age of twenty, Linda moved to Nashville to pursue a career in Country Music. She sang in piano bars and recorded ad jingles for Dr. Pepper and Kentucky Fried Chicken. With male/female duos popular, Linda and Skip Eaton performed and recorded as "Skip and Linda." They scored three minor hits in 1982. In later years, as a solo artist, she recorded a few more marginal hits. But despite Linda's popularity with everyone in the business in Nashville, a break-through proved elusive. "Emotionally, it was like a rollercoaster," recalled Linda. "We would just get on a little wave, and I'd think, 'Okay, this is going to do it.' Then it would peter out and we'd sit there and scratch our heads and go 'why didn't this work out?'"
Finally, in 1989, Linda caught the attention of another superstar, Reba McEntire. "I was listening to songs for my next album," reminisced McEntire. "I kept hearing this one particular female vocalist on the demos that just blew me away. It had been a long time since a voice had moved me that way, and I just had to find out who she was." Reba enlisted Linda Davis for her tour show. In 1993, Reba and Linda recorded Does He Love You and filmed a dramatic video version of the song. Does He Love You soared to No. 1 and earned Reba and Linda the 1993 Grammy Award for the Best Country Vocal Collaboration. Linda's 1996 single, Some Things Are Meant to Be, rose to No. 13 on the Country charts.
Linda and her husband, Country singer Lang Scott, are the parents of Hillary Scott. Following in the footsteps of her mother, Hillary is the lead singer in the rising group, Lady Antebellum. A highlight of Linda's stage show comes when she selects a young fan from the audience to perform with her the torchy duet, Does He Love You. Linda Davis website
---
Michael Martin Murphey "Singing Cowboy Poet"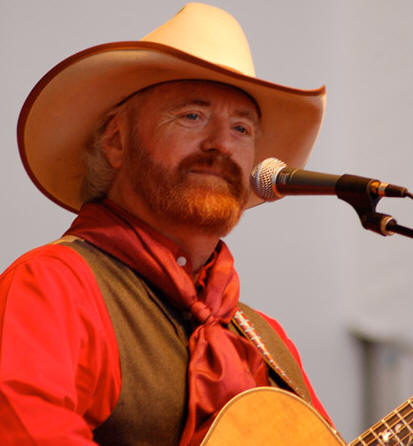 In the same way that Singing Cowboy Tex Ritter emphasized the WESTERN in Country and Western, Michael Martin Murphey - the "Singing Cowboy Poet" - writes and sings about cowboys and gunfighters. Early in his career Murphey was known as the "Cosmic Cowboy," and later he founded the annual WestFest, a three-day festival celebrating Western Americana.
Michael Martin Murphey was born in Oak Cliff, Texas, on March 13, 1945. As a boy he wrote cowboy poetry and learned to play a ukulele. He began absorbing the cowboy culture while working on family ranches. At the Sky Ranch at Lewisville, north of Dallas, young Murphey sang cowboy songs for campfire gatherings. In high school, as half of the Texas Twosome, Murphey played clubs and coffee houses around Dallas. Attending North Texas State College, he formed a band and built a strong following around Denton and Dallas. Soon Murphey moved to Los Angeles to study poetry and writing at the University of California. A few months later he signed a songwriting contract with Sparrow Music, and he played and sang with Folk bands. Although Murphey enjoyed a Top 40 Pop hit with I Feel Good, I Feel Bad, he decided to retreat from Los Angeles to the Mojave Desert. He experienced a creative surge, writing songs that were recorded by Roger Miller, Bobbie Gentry, Flatt & Scruggs, and the Monkees.
Murphey moved back to Texas in 1971. Settling in Austin, he became friends with Willie Nelson and formed a band which played at the popular Armadillo World Headquarters club. He signed a new contract with A&M Records. In 1974, Murphey moved to Colorado, writing, recording and studying the heritage of the West. His 1975 album, Blue Sky - Nigh Thunder, went Gold, and a single from this album, the haunting Wildfire, became a No. 3 Pop hit. In 1981, he wrote the screenplay for and appeared in the motion picture Hard Country with Kim Basinger and Jan-Michael Vincent.
In 1982, What's Forever For became his first No. 1 Country hit, and the next year he was named "Best New Male Vocalist" by the Academy of Country Music. There were numerous other hits, and in 1987 he returned to No. 1 with A Long Line of Love. During the 1990s Murphey focused on the music of the West. He began staging the WestFest at locations in Colorado, Texas and New Mexico. Murphey's 1990 album, Cowboy Songs, went Gold and earned the first of his six Wrangler Awards from the National Cowboy Hall of Fame. Cowboy Christmas and Cowboy Songs II were released the next year, and Cowboy Songs III, was produced in 1993. Two years later Murphey, performing with the San Antonio Symphony Orchestra, released Sagebrush Symphony. Cowboy Songs IV and Cowboy Christmas II and III have followed, along with other popular albums. A member of the Western Music Association Hall of Fame, Michael Martin Murphey truly has earned his nickname--the Singing Cowboy Poet.
Michael Martin Murphey Website
---
Neal McCoy "The Entertainer"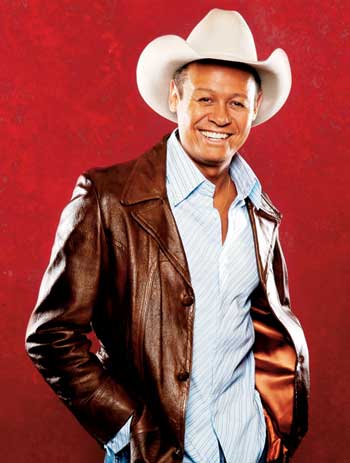 Dynamic. Exciting. Lively. Crowd Pleaser. These words describe the electrifying stage presence of a born entertainer. Neal McCoy entered the world at Jacksonville, Texas, on July 30, 1958. His actual birth name was Hubert Neal McGaughey, Jr. Early in his performing career Neal simplified the spelling of his last name to McGoy (same pronunciation), and there was a later change to McCoy. As a schoolboy, Neal eagerly performed at any opportunity, in school programs and musicals, in church choirs, and Gospel quartets. In addition to Country and Gospel, he absorbed elements of Jazz and Rock.
After finishing junior college, McCoy moved with his dad to nearby Longview, where he landed his first professional gig, as lead singer in an (almost) all-black Kool & the Gang-style dance band, playing "tiny little clubs." Before long, he left that gig for a better one - singing supper club-style standards. While he was growing as a singer and expanding his songbook, McCoy's natural performing skills and uncanny way with an audience became more apparent with every passing night. He won a nightclub talent contest hosted by Janie Fricke, who at that time was the opening act for Charley Pride. Janie introduced McCoy to Charley Pride's agent. When she departed to pursue a solo career, Neal McCoy became Charley Pride's opening act. Onstage McCoy delivered a high energy, non-stop performance that made him a crowd favorite. For seven years he toured with Charley Pride, performing in almost every state in the U.S., along with Canada, England, Australia, and New Zealand.
With broad touring experience and a growing fan base, McCoy finally left the Pride tour to build his own solo career. His first album, At This Moment, was released in 1991, and the next year Where Forever Begins became his second album. His third album, 1994's No Doubt About It, produced his first two No. 1 hits, the title song and Wink. The title of his next album - Neal McCoy - attested to his growing fame and recognition. In 1997 Then You Can Tell Me Goodbye was named Video of the Year at the TNN/Music City News Country Awards. For the next two years, 1998 and 1999, McCoy earned Entertain of the Year honors.
In 2001, Wayne Newton contacted McCoy about being an act in the USO Tour. McCoy, along with stars like Jessica Simpson, Kid Rock and Shaggy, traveled to Bosnia and Italy in 2001, and the singer gained a new perspective and forged a strong bond with the Las Vegas veteran. "Wayne and I really hit it off and just had this mutual respect for each other," McCoy says. "We are so much alike, not just onstage but offstage in the way we treat people. We laugh about how we could entertain anybody, anytime, anywhere." Next thing he knew he was off with Newton and the USO again, along with Drew Carey and a bevy of Dallas Cheerleaders, landing in hot spots like Iraq and Afghanistan to entertain the troops. To date, McCoy has done 13 USO tours, both domestic and overseas.
McCoy's USO tours have been life changing experiences, but his determination to leverage his celebrity status to benefit worthy causes goes way back. In 1995, McCoy and his wife, Melinda, established the East Texas Angel Network. Through fundraising activities, the organization has raised over five million dollars for medical treatments and related costs for children of East Texas with terminal or life-threatening diseases. McCoy's good works haven't gone unheralded. In May of 2005, he won the Academy of Country Music's Home Depot Humanitarian Award for his extensive work with the USO and the East Texas Angel Network. He was honored again in 2006 at the 37th Annual Country Radio Seminar in Nashville with the Country Radio Broadcasters' Artist Humanitarian of the Year Award. And in 2007, the Masonic Grand Lodge of Texas honored the singer with the W. B. and Brandon Carrell Humanitarian Award, the highest honor given to a non-Mason.
"I like to entertain and have a good time with the folks," asserts McCoy. Three platinum albums, one gold album, and a sensational performing career proclaim the truth of this statement.
Some information courtesy of Neal McCoy Website