Jeannie C. Riley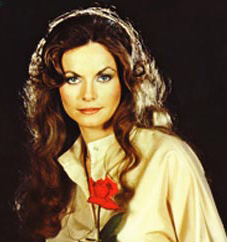 Best known for her international crossover hit "Harper Valley P.T.A.," Jeannie C. Riley was born Jeanne Carolyn Stephenson on October 19, 1945 in Anson, Texas where she fell in love with country music. Jeannie made her public debut as a teenager on her uncle Johnny Moore's local jamboree show.
Not long after graduating from high school, Jeannie married Mickey Riley. After the birth of her daughter Kim Michelle Riley on January 11, 1966, the Riley family moved to Nashville so Jeanne could pursue becoming a professional musician. Jeannie worked as a secretary at Passkey Records while recording demos on the side.
In 1967, Jeannie's manager Paul Perry hooked Riley up with producer Shelby Singleton, with whom she recorded Tom T. Hall's composition of "Harper Valley P.T.A." The song became a huge crossover success, peaking on both the pop and country charts, on the Nielson Top 40, that Casey Kasem counted down, on radio stations all across North America, alike at #1, thus making Jeannie the first female country singer to have a hit single simultaneously soar to the #1 spot on both the Nielson pop & country charts. Riley not only won the Grammy Award for Best Female Country Vocal Performance (she was also nominated for Grammys as "Best New Artist" & "Record of the Year"), Harper Valley P.T.A. also won the Single of the Year from the Country Music Association. In addition, the song inspired a 1969 TV musical variety program with Riley as the host, a 1978 film adaptation starring Barbara Eden, & an early 80's spin-off sitcom that also starred Eden. In 1968, Riley debuted on The Grand Ole Opry and released "The Girl Most Likely," which reached number six on the country charts. During the early '70s, she had five other Top Ten singles, including "Country Girl," "Oh, Singer," and "Good Enough to Be Your Wife." Around 1974, Riley became a born-again Christian and formed a new band, Red River Symphony, which had a hit in 1976, "The Best I've Ever Had." Following its release, Riley founded and began recording on the God's Country label. In 1981, she recorded the gospel album From Harper Valley to the Mountain Top. Throughout the '80s and '90s, she continued to be a popular contemporary Christian recording and performing artist.