Duane Allen - The Oak Ridge Boys
Elvira, Y'All Come Back Salon, Bobbie Sue, You're the One, Fancy Free, American Made - These and other sensational hits established the Oak Ridge Boys as one of the most famous and accomplished groups in the history of Country Music. This notable group had its origin in 1945 at Oak Ridge, Tennessee. Oak Ridge was a key location for research and development of the atomic bomb during World War II. There were 75,000 men and women at Oak Ridge working on this top secret "Manhattan Project," and movies and live entertainment were brought into this confined community.
Gospel music was popular at Oak Ridge, and one of the acts began to call themselves the Oak Ridge Quartet. In 1961 the gospel group changed its name to the Oak Ridge Boys. Baritone William Lee Golden, from rural Alabama, joined the quartet in 1964, and the next year Texan Duane Allen became a member. During the early 1970s Golden and Allen were joined by tenor Joe Bonsall, from Philadelphia, and by bass Richard Sterban, a New Jersey native. With this core lineup--Allen, Golden, Bonsall, and Sterban--the Oak Ridge Boys became a top gospel group. But in 1977, producer Jim Halsey convinced them that the Oak Ridge Boys could reach a far larger audience with Country Music. Halsey booked them into a Las Vegas revue, where they performed 70% Country songs and 30% Gospel.
In 1977 the hit singles, Y'All Come Back Saloon and You're the One vaulted the Oaks to prominence in Country Music. During the next eight years the Oak Ridge Boys had 25 consecutive Top Ten singles including 13 #1 hits. Album after album sold one million, two million copies. The Oak Ridge Boys scored their biggest hit in 1981 with Elvira. Number One in the Country Charts, Elvira was a crossover #1 in the Pop Charts.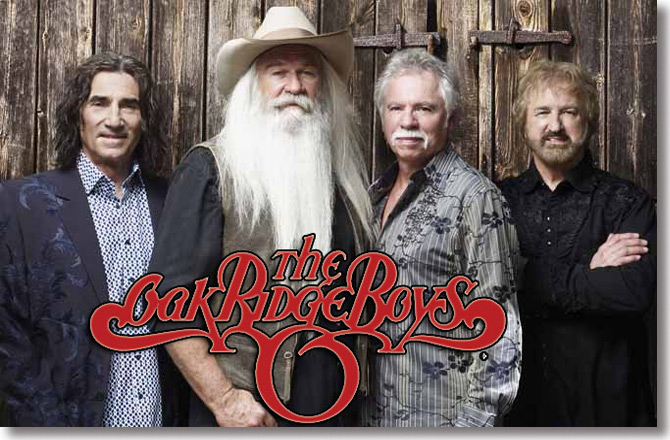 The Oak Ridge Boys scored five Grammy Awards, four Country Music Awards, two Academy of Country Music Awards, and eight Gospel Music Association Dove Awards. These honors ranged from Vocal Group of the Year to Single of the Year to Album of the Year.
"I've always believed in the philosophy that any two, three, or four can be bigger or better than any one," states lead singer Duane Allen. Duane is from rural Taylortown in Lamar County. He attended Paris Junior College and earned a music degree from Texas A&M University in Commerce. He received a Distinguished Alumni Award from both institutions, and he was awarded an honorary doctorate from a Christian college. An antique car buff, he has more than two dozen classics in his museum, Ace on Wheels.
Baritone William Lee Golden was presented a Lifetime Achievement Award from the Alabama Music Hall of Fame. A gifted painter, he has created the William Lee Golden Collection.
"I go out there and try to sing the best I can and give them physically and mentally every single thing I've got." In addition to being a high-energy performer, tenor Joe Bonsall is a songwriter and the author of inspirational and children's books.
Bass Richard Sterban for years was part-owner of the Nashville Sounds Triple-A baseball club. He stores a bicycle in a bay beneath the tour bus, carries a bike in a case on plane trips, and takes long-distance rides to stay fit on the road.
"I wanted to be in the best vocal group in the world," said Sterban about his goal in life. Fans of the Oak Ridge Boys would agree that he achieved that goal.