Mac Davis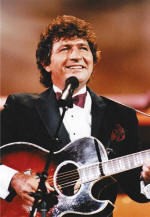 Scott "Mac" Davis was born in Lubbock on January 21, 1942. Musically inclined, "I was probably making up melodies when I was only five or six years old." Mac sang in the church choir, and he learned to play the blues harp, bongo drums and guitar. Like countless other teenagers during the 1950s, Mac was strongly influenced by Elvis Presley.
"When I was growing up in West Texas, we didn't have rock-and-roll stations," stated Lubbock native Mac Davis, reflecting on his long and varied career. "I'd always listened to country music. In fact, that's my roots. I never heard anything but country music--Hank Williams, Eddy Arnold, and Ernest Tubb--until I was thirteen or so. In addition to widespread recognition as a country artist-songwriter, Mac Davis also has enjoyed success in pop music, on Broadway, and in movies and television. But through all of his entertainment activities, Mac's country roots consistently are reflected in his soft West Texas twang.
Mac's breakthrough as a songwriter came in 1968, when Elvis Presley recorded A Little Less Conversation. Elvis wanted more Davis songs, and during the next couple of years, Presley scored hits with Memories, In the Ghetto, and Don't Cry Daddy. Glen Campbell, Kenny Rogers, and numerous other artists eagerly recorded Mac Davis songs. Mac's sentimental songs about his little boy, Watching Scotty Grow and Daddy's Little Man, were hits for Bobby Goldsboro.
Mac signed with Columbia Records as an artist in 1970, and two years later he recorded a number one pop hit with Baby Don't Get Hooked on Me. He charted repeatedly during the 1970s and 1980s. Two memorable hits of 1980 were It's Hard to Be Humble and Texas in My Rearview Mirror. In 1991 Mac's Greatest Hits album went gold.
From 1974-76 Mac hosted a TV variety show, and in 1974 he was named AMC Entertainer of the Year. In 1979 he played a Dallas Cowboy quarterback based on Don Meredith in North Dallas Forty, and four years later, he again was featured on big screens in The Sting II, with Jackie Gleason. Along with other Hollywood and TV movies, he starred in Broadway in The Will Rogers Follies.
---
Johnny Lee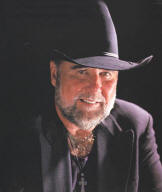 Johnny Lee was born John Lee Ham in Texas City on July 3, 1946. While growing up on a dairy farm near Alta Loma, he organized "Johnny Lee and the Roadrunners." Johnny Lee's musical career took a back seat for four years during the 1960s after he joined the Navy, serving aboard a guided missile cruiser in Vietnamese waters. "I love a good country song," declared singer Johnny Lee, a Texas farm boy during the 1950s, "but I can get sentimental about some of the old fifties stuff."
Following his discharge, Johnny joined Mickey Gilley's band as a singer and trumpet player. With the opening of Gilley's Club in Pasadena in 1971, Johnny headlined the band when Mickey was on tour. Launching a recording career in the mid-1970s, he occasionally made the country charts with such singles as Red Sails in the Sunset, Ramblin' Rose, and Country Party. Tall and handsome, Johnny landed a role in a 1979 TV movie. He followed up the next year with a small role in John Travolta's Hollywood hit, Urban Cowboy. While the soundtrack album soared to Triple Platinum, Johnny's single release, Lookin' for Love climbed to Number One and also was certified Platinum. An album of the same title was certified Gold and produced another Number One single, One in a Million.
In 1981 Johnny released his second album, Bet Your Heart on Me, and the title song hit Number One. He reached the Top Three with Pickin' Up Strangers and Prisoner of Hope. Johnny received the 1981 Best New Male Vocalist Award, and he left Gilley's to form the Western Union Band. He installed his new group in his Pasadena club, Johnny Lee's. He also established the Johnny Lee Pro-Am Golf Tournament to aid the mentally handicapped through the Home of Guiding Hands.
Although it was impossible to sustain the level of success he enjoyed during the 1980s, in 1996 Johnny was named Veteran Music Singer of the Year for his gospel recording, He Could Have Walked On By.
---
J. P. Richardson (The Big Bopper)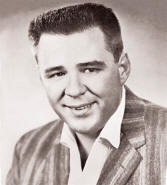 "Hellooo...Baby!" The deep, rich voice that uttered the opening line to Chantilly Lace belonged to Jiles Perry Richardson, Jr., known to his fans as The Big Bopper. But The Big Bopper's meteoric rise to fame was cut short by one of the most stunning tragedies ever to strike the music world.
Born in Sabine Pass on October 24, 1930, the husky youngster moved with his family and played football at Beaumont High School. After high school graduation in 1949, he served a stint in the army and earned a diploma from a technical school in radio and TV broadcasting. In 1955 Richardson became a deejay at KTRM in Beaumont, a station where he had worked before joining the army. On the air he was a sild man, and "The Big Bopper Shop" attracted a strong fan base, while providing Richardson with a popular stage name. In May 1957 he set a world record for continuous broadcasting with his "Discathon," remaining on the air for six straight days and spinning 1,821 records.
But success as a deejay did not satisfy the musical ambitions of The Big Bopper. Influenced by Country and Western Music, he began writing songs, then shifted toward the new sound of Rockabilly. During an abbreviated career as a songwriter, he composed about thirty-eight tunes, and recorded over twenty of them. Among his recordings were Crazy Blues and Beggar to a King, which later was a hit for Hank Snow. Richardson's Running Bear would become a hit for Johnny Preton.
Chantilly Lace was released on Mercury Records in the summer of 1958 and soared to Number Six on the pop charts. Suddenly The Big Bopper--"Hellooo...Baby!"-- was known nationwide, and he intended to capitalize on the opportunity. The Big Bopper took a leave of absence from KTRM to go on tour. His stage performances were flamboyant, featuring zoot suits and a prop phone for Chantilly Lace.
Early in 1959 he joined The Winter Tour, with Buddy Holly as headliner for a three-week series of appearances in the Upper Midwest. But the bus developed engine trouble and the heater stopped working, and under the frigid temperatures The Big Bopper fell ill. On the night of February 2, Buddy Holly, Richie Valens and The Big Bopper played the Surf Ballroom in Clear Lake, Iowa. Holly chartered a three-passenger plane to avoid a long bus ride to North Dakota. The Big Bopper, hoping to have time to see a doctor, persuaded Holly's sideman, Waylon Jennings, to give up his seat on the plane.
An hour after midnight the plane took off, but immediately crashed and cartwheeled. The Big Bopper, Buddy Holly, Richie Valens and the pilot died instantly. Only twenty-eight, The Big Bopper was flown back to Beaumont for funeral services. At his death, The Big Bopper's Wedding was climbing the charts. Richardson had married Adrian Joy Fryon in 1952. They had a daughter, Deborah, and Adrian was pregnant when the Big Bopper was killed. Jay P. Richardson never knew his father, but for the past several years has recreated the performance of the Big Bopper on television and in live appearances.