Tex Ritter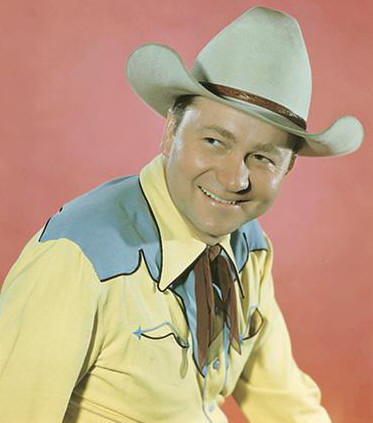 Though born in rural East Texas, and though his early musical influences were rural and southern rather than purely western, Maurice Woodward "Tex" Ritter was identified early in his career with the Texas cowboy image. That is not, however, how he started out. Ritter's skills as a public speaker and his intellect first became apparent when he attended school in Nederland, where the Ritter family had moved. Though he loved cowboy songs, he decided on a law career and in 1922 began attending The University of Texas at Austin. Active in music and theater there, he soon found two professors at The University doing a serious study of cowboy songs, and learned much from them.
In 1928 he traveled to New York City just before graduation and wound up getting a minor role in a Broadway show. After a final stab at finishing law school, he returned to New York in 1931 and landed a featured role in the Broadway play, Green Grow the Lilacs. The cast began to call him "Tex" because of his accent and the name stuck with him. That led to other Broadway parts and radio programs and, in 1932, his first recording session for the American Recording Company.
Following Gene Autry's success, Hollywood sought other singing cowboys, and in 1936, Tex landed a Hollywood movie contract. He was on the way to stardom by 1937 and made 85 films through 1945. Ritter married one of his co-stars, Dorothy Fay Southworth, making her his "leading lady for life."
Though he recorded for ARC and for Decca without success, he became the first country and western singer signed to the brand new Capitol label in 1942 and immediately found success with Jingle, Jangle, Jingle. He had a string of hit records in the 40's with I'm Wastin' My Tears On You, There's a New Moon Over My Shoulder, You Two-Timed Me One Time Too Often, You Will Have to Pay, Christmas Carols by The Old Corral, Rye Whiskey and Deck of Cards. In 1953, his version of Do Not Forsake Me, the theme from the classic 1942 Gary Cooper film High Noon, became a pop hit. This movie won the Academy Award and Ritter performed the song on the first televised broadcast of the awards ceremony in 1953. By 1952 he'd become host of the popular Southern California country music TV show, Town Hall Party, and also its national syndicated counterpart, Ranch Party. In 1961 he had a final big hit with I Dreamed of a Hillbilly Heaven. Ritter was named a founding member of the Country Music Hall of Fame in 1964.
Ritter's interest in law sparked once again and in 1970, he ran unsuccessfully for the Republican nomination for U.S. Senator. His son, John Ritter, became a highly successful actor after Tex's death.
---
Jim Reeves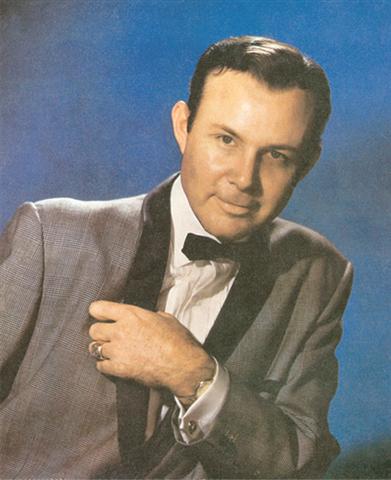 James Travis Reeves was born in Galloway, Texas. His father died within a year of his birth, and he was raised, along with five other children, by his mother, Beulah. Jim Reeves, not surprisingly, was an early hero, but baseball became his obsession. A baseball scholarship took him to The University of Texas at Austin in 1942, but he quit to work the shipyards of Houston, then took to the minor leagues. He stayed there until he was injured. In 1947 he married Mary White, who would play an important role in his future musical career.
He first moved into music as a disc jockey at KGRI in Henderson, Texas. Feeling that his own voice equaled or surpassed that of Ernest Tub or Lefty Frizzell, he decided to take a serious stab at recording. In 1949 he cut his first records for a tiny local label in Houston, but they went nowhere. His big break came in April 1953, when Mexican Joe, a song he'd recorded for Abbott Records, became his first Number One record. He was working as an announcer on Shreveport's Louisiana Hayride at the time. Fearing they'd lost him as their emcee, the Hayride management insisted that Billy Walker - not Reeves - sing the song on the show. One night Reeves had to fill in as a singer anyway, and the management's injunction went by the boards. He sang Mexican Joe and wound up with six encores, at which point Hayride staffer Horace Logan forbade any more kudos, lest Reeves beat Hank Williams' previously set record for encores. That was the end of his announcing and the beginning of his two-year stint as a Hayride star, as he followed up Mexican Joe with Bimbo, another unvarnished country hit, which hit Number Two.
In 1955 Reeves bought back his Abbott contract and moved on to RCA Victor. Without a hit for two years, he soon came up with three in a row--Yonder Comes a Sucker, My Lips are Sealed, and According to My Heart, all Top Ten, all in one year and all straight country. However, in the wake of Elvis' success, it looked like audiences were beginning to tire, at least for the moment, of the fiddle and steel style that had held sway for over a decade. Desperate to counteract declining record sales, RCA's Chet Atkins, Decca's Owen Bradley and Columbia's Don Law began trying new ideas in the studio. One particularly popular experiment was to strip off the fiddle and steel, introduce a more neutral rhythm section and use background voices to sing the fiddle/steel fill-ins. Reeves tried this and also lowered the volume of his voice, singing close to the microphone.
Then early in 1957, Reeves, much to Chet Atkins' surprise, selected a ballad called Four Walls for his next session. Atkins had thought of the song as a woman's number, but trusting Reeves' intuition, he went with it. RCA released it in March; it hit Number Two on Billboard's country charts in April and Number Eleven on their pop charts in May. Suddenly Reeves was doing American Bandstand. When Blue Boy hit Number Four in 1958, Reeves renamed his band The Blue Boys and dropped his fiddler and steel player for good. In December of 1959 he crossed over in a big way once again: He'll Have to Go cut as the B-side of a single, hit Number One country and Number Two pop. It sold more than three million records.
His domestic popularity was obvious; abroad, his fame was towering. It probably had something to do with the State Department asking Reeves to serve as a government representative and good will ambassador to Kenya for an independent celebration. His foreign popularity centered in England, Germany and Africa. He won gold record awards in each country.
He was planning to study acting and was trying to reduce his touring in order to work on investments. A land deal took him via private plane to Batesville, Arkansas, on July 30, 1964, with pianist Dean Manuel. On July 31, while approaching Nashville on his return, the plane ran into a rainstorm and disappeared from radar. Outside his Brentwood home, Marty Robbins heard something crash. It took two days to locate the wreckage and the bodies. On August 4, after funeral services in Nashville, Reeves' body was returned to Carthage, Texas. Jim Reeves' records still sell, three decades after his death; he remains a legend.
---
Willie Nelson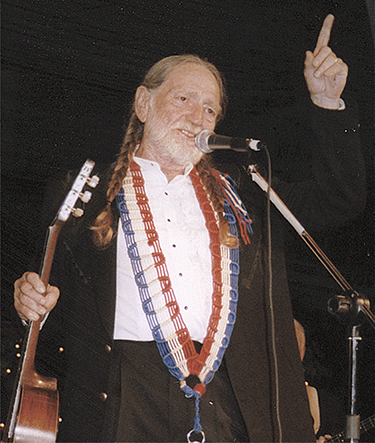 Few country music stars have engendered as much good will as Willie Nelson, despite his label as one of the original Outlaws. It is also safe to say he is one of the most durable artists and one-of-a-kind personalities to ever come rolling down the country music turnpike.
Born in the tiny hamlet of Abbott, Texas, Nelson was raised by his grandparents. He and his sister, Bobbie Lee, both loved music. In 1939, at age six, Nelson's grandfather gave him a guitar and taught him some chords. After his grandfather's death, the family went through a tough economic period. Willie continued his musical obsession when the family got a radio. Not only did he love the sounds of the Grand Ole Opry, he loved Southwestern acts like Bob Wills and Ernest Tubb. He started writing his own songs, and, at age 10, started playing guitar with a local band, John Raycjeck's Bohemian Polka Band. After Bobbie married musician Bud Fletcher, Willie joined his brother-in-law's Western swing band, The Texans.
He met Martha Matthews, who became his first wife in 1952. A year later they left Abbott for San Antonio, where Willie worked in a band until they moved on. At radio stations in Pleasanton and Fort Worth, Willie worked as a DJ, playing music on the side. After years in radio work, Nelson met songwriter Hank Cochran at the legendary Tootsie's Orchid Lounge. Cochran helped Nelson obtain a contract with Pamper Music where he wrote "Hello Walls," which became a huge Number One record for Faron Young. Billie Walker had a hit with Willie's "Funny How Time Slips Away." As Willie's songwriting gained him notice, Liberty Records signed him as an artist. His first hit record in 1962 was "Willingly," a duet with Shirley Collie, followed by "Touch Me," a Willie solo recording that went Top Ten that same year. Nelson joined Ray Price's Cherokee Cowboys as bass player and singer, and in 1963 Patsy Cline recorded Nelson's "Crazy," making it a Number Two country single.
After Willie finally gained creative control on Columbia, he produced his first album, Red Headed Stranger, for the label and the hit single, Fred Rose's old song, "Blue Eyes Crying in the Rain," became his first Number One hit. In 1977, Willie decided to do an album of classic American pop songs by George and Ira Gershwin, Hoagy Carmichael, and Irving Berlin. The result was Stardust, released in 1978. It remained on Billboard's Top Album charts for over two years and was certified quadruple platinum. Three songs, including "Georgia on My Mind," "Blue Skies," and "All of Me," became country hits, the first two going Number One.
In 1979 his film career began with a starring role with Robert Redford in the film The Electric Horseman, which yielded his 1980 hit, "My Heroes Have Always Been Cowboys." Also in 1979 the Country Music Association honored him as Entertainer of the Year. In 1982, "Always on My My Mind" became a triple platinum album. Fame, including sold-out concerts and record sales gave Willie wealth, but never diminished his social consciousness. His support of the embattled family farmer has never ended since he began his star-studded Farm Aid in 1985 to raise money to assist them.
---
Gene Autry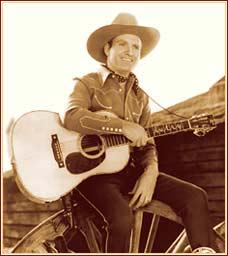 Texas-born Gene Autry has sold more than 65 million records with the 635 recordings he made in his career. Among them was 1931's "That Silver Haired Daddy of Mine" which was the first gold record in history. He was born September 29, 1907 on a tenant farm near Tioga, Texas. Early in his life, the Autrys moved from northeast Texas to Oklahoma. His father ran a ranch near Achille, Oklahoma, and Autry often drove cattle to the railroad station for shipment.
He was encouraged by legendary Oklahoma humorist Will Rogers, who met young Autry, then a telegraph operator, in his telegraph shack by the side of the railroad. Art Satherley of the American Recording Company signed Autry in 1929. Easily-recognizable Autry hits were, "Have I Stayed Away Too Long," "Mexacali Rose," "Back in the Saddle Again," "Tumbling Tumbleweeds," "Have I Told You Lately That I Love You," "Roly Poly," "You Are My Sunshine," "Goodbye, Little Darling," "Angels in the Sky," "You're the Only Star in My Blue Heaven" (Autry wrote this), "Here Comes Santa Claus," "Frosty the Snowman" and "Peter Cottontail." In 1949 he recorded "Rudolph the Red-Nosed Reindeer," which has maintained its position near the top of the all-time greatest selling singles, second only to Bing Crosby's "White Christmas."
He was the first super hero at the movies who never lost his hat while capturing train robbers, cattle rustlers and other all-around bad guys. In 1940, he was named the No. 4 box-office draw.
Autry used his influence to fight racial and religious intolerance and to promote virtues like honesty and kindness. Countless children pledged to uphold their hero's cowboy code which was penned in 1940. One of those child fans grew up to pitch for Autry's baseball team, the California Angels. The player's name was Nolan Ryan. His advice about getting an agent apparently helped a young actor named Ronal Reagan. Autry boasts that fifty years later, he commended the newly-elected president for getting such a good agent.
Autry proved that his first concern was patriotism when his career came to a halt, along with the rest of the nation on December 7, 1941. He kissed his wife, Ina Spivey Autry, goodbye and was inducted into the Army at the age of 35. He quickly became a tech sergeant in the Army Air Corps, then a flight commander and first pilot with the Air Transport Command. Autry ferried planes, cargo and supplies to India, North Africa and Burma.
When he returned to California, Autry plunged into a multi-faceted business career. He built an empire in broadcasting and real estate. Outside the limelight, he was most endeared for his generosity of time and treasure. When on tour, he took time to sing to hospitalized children. His philanthropy is widely noted.
---
Cindy Walker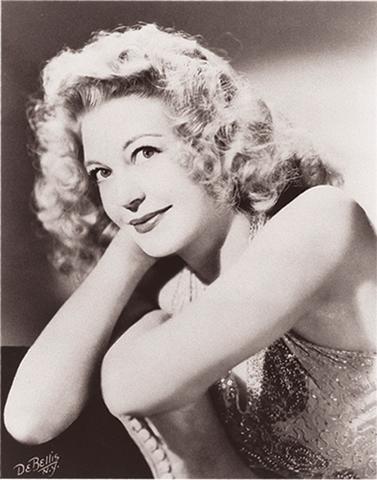 It was master songwriter Harlan Howard who described Cindy Walker as the "greatest living songwriter of Country music." This was no idle flattery. Cindy Walker has, for more than 50 years, been a writer whose songs not just country artists want to record. By the time she was 16, Walker was dancing at Billy Rose's Casa De Manana in Fort Worth. She had begun writing and she wrote "Casa De Manana" as the theme for the show. It was then played by celebrated band leader Paul Whitman on a nationwide radio show.
In 1941 she traveled with her father, a cotton buyer, to Los Angeles on a business trip. Cindy had written a song called "Lone Star Trail" and was determined that she was going to pitch it while in L.A. They were about to drive past Bing Crosby's office when she marched in and against all odds saw Larry Crosby, Bing's brother. He listened to her sing the song, accompanied by her piano-playing mother, Oree, and asked Cindy to demo it. Bing recorded the song. While demoing the song, Dave Kapp of Decca Records heard Cindy singing and signed her to a recording contract. She made a one-week visit to the country charts at No. 5 with the single "When My Blue Moon Turns to Gold Again," which strangely was not one of her songs.
That same year she started a close working relationship with Bob Wills. It was determination that got her together with Wills. She had seen his bus in Hollywood, and painstakingly contacted all the hotels in town to find the "King of Western Swing." A week after meeting her, Wills recorded five of her songs, including "You're From Texas, "Cherokee Maiden," "Don't Count Your Chickens," and "Dusty Skies." Her relationship with Wills would go on for many years. In all she wrote some fifty songs for Wills, often with Wills himself, including thirty-nine for his movies. Wills' songs by Walker included "Can It Be Wrong", "Sugar Moon," "Bubbles in My Beer," "New Playboy Rag," "Warm Red Wine," "It's the Bottle Talkin'," "Born to Love You," and "It's a Good World."
During the 50's, Walker continued in the same feverish level with one of her classic songs, "Take Me in Your Arms and Love Me," which became a No. 1 Country hit for Eddy Arnold. The song would later be recorded by many artists which included Les Paul and Mary Ford, Tennessee Ernie Ford, Gladys Knight and the Pips, and Jim Reeves. Walker songs continued to be used for major covers throughout the 60's and 70's. Roy Orbison had a Top 5 Pop hit with the Cindy Walker classic song, "Dream Baby." Jerry Wallace's 1964 Top 20 Pop hit, "In the Misty Moonlight," and "This Is It," Jim Reeves' 1965 posthumous No. 1 added more feathers in Walker's cap. In 1970, Walker became a charter inductee to the Nashville Songwriters Hall of Fame.
Mickey Gilley took "You Don't Know Me," which already had two chart versions, and turned it into a No. 1 hit in 1981. The following year, Ricky Skaggs also topped the charts with "I Don't Care," which had already enjoyed a No. 1 slot through Webb Pierce. Walker's contributions on the spiritual level included a hymn book titled Of Thee We Sing and the theme songs for the Billy Graham motion pictures, Mr. Texas and Oil Town, USA. Walker has made her home in Mexia since 1964.
---
Joe Allison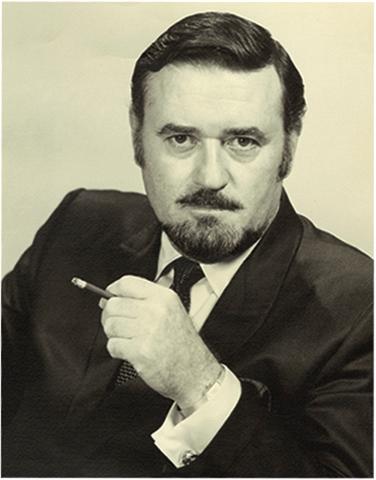 Allison is well-known in Nashville for his multi-faceted career as DJ, producer, and television show host. Born in McKinney, Texas. Allison worked as a commercial artist before embarking on a career in the entertainment industry, first as a disc jockey on a Paris, Texas radio station. In 1945, after a few years on radio, Allison took a job as the emcee for the North American tour of country music singing star Tex Ritter. While working on tour, he offered Ritter a song he had written called When You Leave, Don't Slam the Door, which the singer turned into a No. 1 hit on the country music charts. This success ultimately led to Allison moving to a radio station in Nashville, Tennessee where he remained until accepting an offer from a station in Pasadena, California.
While working on radio and television on the West Coast, Allison continued writing music, many of which were co-authored with his first wife, Audrey. He scored a success with a song recorded by country singer Faron Young and a major hit when teen idol Tommy Sands recorded his song, Teen Age Crush. In 1959, Joe and Audrey Allison wrote their most famous song, He'll Have to Go, which was initially recorded by Billy Brown. A subsequent version by Jim Reeves become a platinum record, and the song would be recorded successfully by more than one hundred other artists including Elvis Presley, Bing Crosby, Tom Jones, Eddy Arnold and even big band leader Guy Lombardo. That same year, Allison was hired by Liberty Records to create their country music department. At Liberty he signed Willie Nelson to his first recording contract. During his time in the music business, Joe Allison won seven ASCAP awards for record producing and five BMI performance awards. In 1976, he was elected to the Disc Jockey Hall of Fame and two years later was inducted into the Nashville Songwriters Hall of Fame. An active promoter of the industry, Joe Allison was a founding member of the Country Music Association and served as President of the Nashville Songwriters Association International.